Meta WCG
FREE JavaScript High Performance eBooks giveaway from Web Code Geeks and Packt (total value of $440)!
Want to boost your knowledge on JavaScript ?
Then we have something especially for you!
We are partnering with Packt Publishing, publisher of cool programming books, and we are running a contest giving away FREE copies of their latest JavaScript eBook.
Studying JavaScript performance in depth will make you capable of tackling the complex and important tasks required to solve performance issues. In this book, you'll learn when and why to use an IDE over a common text editor. Packed with examples, you'll also learn how to create a build system to test and deploy your JavaScript project by optimizing the code.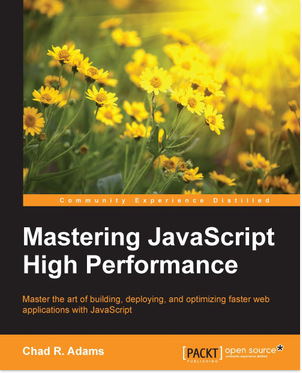 Next, you will move on to learn about DOM optimization, JavaScript promises, and web workers to better break up your large codebase.
You will also learn about JavaScript performance on mobile platforms such as iOS and Android and how to deploy your JavaScript project to a device.
Finally, by the end of the book, you'll be able to pinpoint JavaScript performance problems using appropriate tools, provide optimization techniques, and provide tools to develop fast applications with JavaScript.
What You Will Learn
Test existing JavaScript code using JSLint and understand how to better optimize JavaScript code
Create your own build system for JavaScript projects using Node.js and GulpJS
Get to know best performance-focused practices when writing JavaScript code
Use the DOM more efficiently by optimizing JavaScript with CSS3 animations
Learn how to unit test JavaScript code using Jasmine
Enter the contest now to win your very own copy of their Mastering JavaScript High Performance eBook. There will be 10 lucky winners, for a total value of $440!
In addition, we will send you free tips and the latest news from the Web community to master your technical knowledge (you can unsubscribe at any time).
In order to increase your chances of winning, don't forget to refer as much of your friends as possible!
You will get 3 more entries for every friend you refer, that is 3 times more chances!
Make sure to use your lucky URL to spread the word! You can share it on your social media channels, or even mention it on a blog post if you are a blogger!
Good luck and may the force be with you!
UPDATE: The giveaway has ended! Here is the list of the lucky winners! (emails hidden for privacy)

sa…an@outlook.com
du…90@gmail.com
ke…an@gmail.com
jo…07@gmail.com
ks…82@gmail.com
sa…si@gmail.com
sa…an@gmail.com
jo…36@gmail.com
pa…en@gmail.com
az…wu@gmail.com

We like to thank you all for participating to this giveaway. Till next time,
Keep up the good work!