Meta WCG
FREE "Web Development Recipes" eBooks giveaway from Web Code Geeks and PragProg!
Want to boost your knowledge on Web Programming ?
Then we have something especially for you!
We are partnering with The Pragmatic Bookshelf, publisher of cool programming books, and we are running a contest giving away FREE copies of their latest Web programming eBook.
Modern web development is so much more than just HTML and CSS with a little JavaScript mixed in. People want faster, more usable interfaces that work on multiple devices, and you need the latest tools and techniques to make that happen.
This book gives you over 40 concise solutions to today's web development problems, and introduces new solutions that will expand your skill set – proven, practical advice from authors who use these tools and techniques every day. In this completely updated edition, you'll find innovative new techniques and workflows, as well as reworked solutions that take advantage of new developments.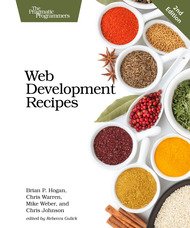 Web development is constantly changing, and you need to stay on top of your game. Discover a wide spectrum of web development techniques, from how to improve the way you present content, to solutions for data analysis, testing, and deployment.
In this edition we introduce new tools, add new recipes, and modernize old ones. You'll use Vagrant to automate server setup, and you'll discover new ways to develop blogs and static sites. You'll learn how to use Grunt to script the deployment of your web project, and use Angular to build a single-page app.
You'll learn how to make content stand out with simple cross-browser styles; create animations that work well everywhere without plugins; and create lightweight, responsive layouts. We'll show you how to use preprocessors like CoffeeScript and Sass; write tests for your code; use Git and Dropbox to collaborate; configure and secure the Apache web server; use virtualization to set up your own servers automatically; and much more!
Enter the contest now to win your very own copy of their Web Development Recipes eBook. There will be 5 lucky winners, for a total value of $125!
In addition, we will send you free tips and the latest news from the Web community to master your technical knowledge (you can unsubscribe at any time).
In order to increase your chances of winning, don't forget to refer as much of your friends as possible!
You will get 3 more entries for every friend you refer, that is 3 times more chances!
Make sure to use your lucky URL to spread the word! You can share it on your social media channels, or even mention it on a blog post if you are a blogger!
Good luck and may the force be with you!
UPDATE: The giveaway has ended! Here is the list of the lucky winners! (emails hidden for privacy)

ca…nt@gmail.com
da…90@gmail.com
ki…tw@gmail.com
pa…gs@gmail.com
sa…de@gmail.com

We like to thank you all for participating to this giveaway. Till next time,
Keep up the good work!